Paper Plate Education
"Serving the Universe on a Paper Plate"
AstroCamp 2010
AstroCamp 2010 divided into two groups--morning and afternoon --that came together for viewing under the stars at night. AstroCamp emphasizes learning the constellations and using telescopes to find deep sky objects. The AstroCamp logs indicate a fantastic list of celestial objects were observed over several nights. A crowning sight was asymmetrical Jupiter. By day, water rockets flew high and fast.


Morning campers and their group log of celestial objects seen at night.


Afternoon campers and their group log of celestial objects seen at night.
---
Something else really cool was going on, but only a few who stayed up late got to see it.

In past years, AstroCampers have looked at Jupiter and have observed two dark belts encircling the planet. These are vast, turbulent clouds. The Southern Equatorial Belt harbors the Great Red Spot, itself many times larger than earth. Jupiter picture, left, is from previous AstroCamp.

In the spring of 2010, Jupiter emerged from behind the sun in the morning sky, and suddenly it was different. Jupiter's southern belt was gone. A weather system that could swallow the earth, and in a matter of months it had become visually absent. Jupiter picture, right, from 2010 AstroCamp.
Combined, before and after: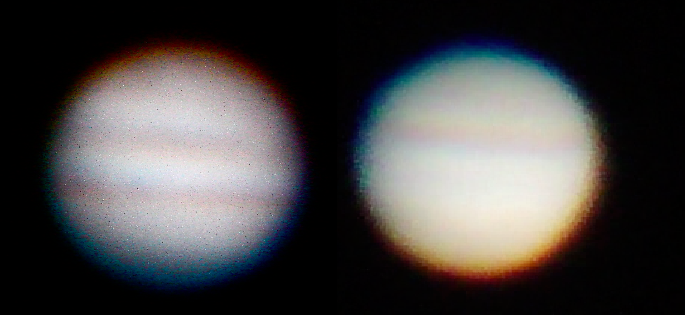 Astronomers await a "revival." See http://www.skyandtelescope.com/observing/highlights/94107139.html.
---
Visit http://www.flickr.com/photos/nightwise/sets/72157624901047836/ for more images
of AstroCamp 2010 at YMCA Camp Eberhart in Three Rivers, Michigan. While much of the camp experience is by day, photographs with flash at night impinge on everyone's night vision. Hence, there are few night shots.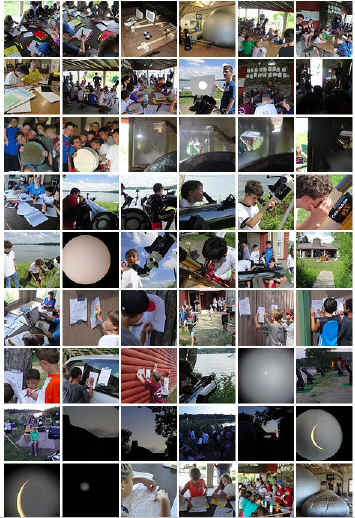 The pictures are also available in an AstroCamp 2010 slideshow (5:24), below:
---
SQM Readings from behind Dave's House
at Camp Eberhart, Three Rivers, Michigan
Latitude 41.9297 N, Longitude 85.7499 W
July 13, 2010
Clear Sky, No Moon

Observer
SQM #
Meter Reading (in "squims")
Mark K.
Joe V.
3534
21.06
Collin B.
3533
21.08
Matthew P.
3540
21.11
Matt B.
3570
21.07

Average

21.08
*"Squims" are magnitudes per square arc-second
See images from other AstroCamp sessions linked from the Astrocamp Home Page.
---

Thank you, AstroCamp staff, for a fun adventure under the stars. Astro rocks!
Front row: Debra, Chuck, Linda, Steve, Darren.
Back row: Lou, Brent, Tom, Jim, Patrick.
Not shown: Matt.
---