Paper Plate Education
"Serving the Universe on a Paper Plate"
2002 IPS Poster

Chuck Bueter exhibited a poster at the 16th International Planetarium Society Conference (well hosted by Martin Ratcliffe and company). Bueter took the liberty of overtaking the adjacent poster space in displaying sample paper plates and excerpts from this website. Below are elements of the poster.
Poster Title: Paper Plate Education
Poster Abstract: Ever since Regiomontanus made a lunar volvelle in 1476, astronomy enthusiasts have used moveable paper instruments for celestial understanding. Paper Plate Education (http://analyzer.depaul.edu/paperplate) continues that tradition with its collection of hands-on activities that are made from simple paper plates. Sample materials contributed by planetarians include an all-sky projector for portable planetariums, a satellite tracking bowl, a tactile Platisphere for visually impaired stargazers, a calibrated altitude measurer, and other moveable paper devices—all for pennies apiece. Poster will be displayed Tuesday through Thursday morning. Paper Plate Education—Serving the Universe on a Paper Plate.


The poster as seen at IPS, with labels shown below.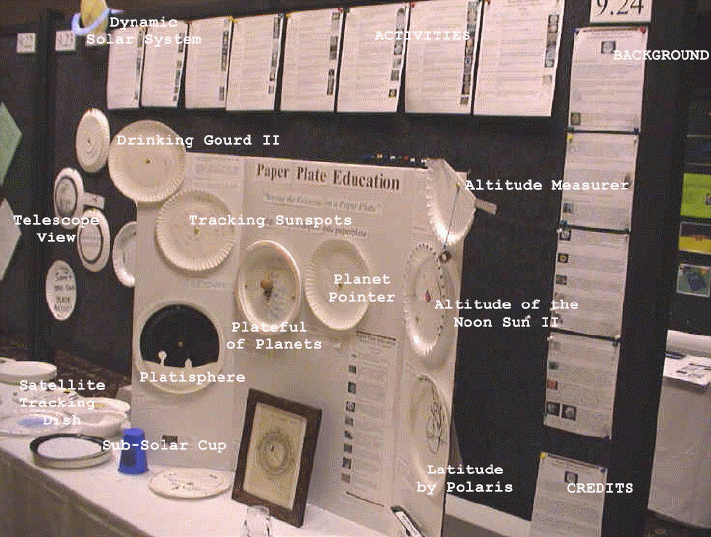 Thank you to all the IPS delegates who offered comments, shared stories, and supported Paper Plate Education. -